• 24-03-2020: Cameroonian saxophonist Manu Dibango loses his battle against Corona virus (COVID-19)
Star saxophone player, band leader, composer
Manu Dibango
died today, as was announced on his official Twitter account, from complications due to COVID-19. Seemingly, his situation was improving last week, but in the end he lost the battle at the age of 86. Manu Dibango was born in 1933, and moved to France in 1949, where he discovered jazz music. He then spent some years in Brussels and Kinshasa before returing to Paris. He recorded more than 50 albums (including compilation albums), and was most famous for his signature song
« Soul Makossa »
.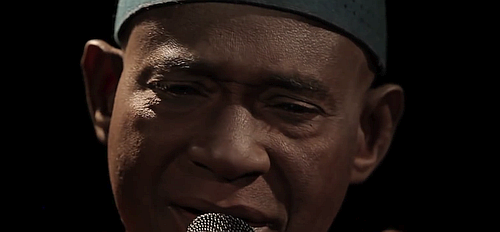 • 28-05-2018: Much respected griot from Mali, Kasse Mady Diabaté died
Malian singer
Kasse Mady Diabaté
died in the night of 24 May 2018 in Bamako, after a period of illness. He was born in 1949 in Kela, a village 8 km of Kangaba, a small town which is seen as the centre of wisdom of the griots, and where everything seems to breath spirituality and history. As a small child, he had to work in the fields, and was singing during the hard work. Very soon, people noticed the resemblance to the voice of his great grandfather Bintoufana Diabaté, nicknamed himself Kasse Mady. His voice didn't remain unnoticed and he was soon asked to lead the newly created
Orchestre de Kangaba
, and as of 1973, he was one of the singers in
Las Maravillas du Mali
, a band set up by musicians who enrolled in conservatory in Cuba. Since 1976, he continued with remaining band members under the new name
National Badema
.
• 24-04-2016: Congolese singer and fashion icon Papa Wemba dead during concert
Congolese singer, bandleader, afro-pop and rumba icon Jules Shungu Wembadio Pene Kikumba aka
Papa Wemba
died this morning at the age of 66 during what turned out to be his last concert on the Festival des musiques urbaines d'Anoumabo (FEMUA) in Côte d'Ivoire. He collapsed during the third song, and He died shortly after. Papa Wemba was among the greatest of all Congolese vocalists and bandleaders, he has been had a leading role in important bands such as
Zaiko Langa Langa
,
Isifi Lokole
,
Yoka Lokole
and founded himself
Viva la Musica
, and also
Nouvelle Ecriture / Nouvelle Ecrita
,
Nouvelle Tendance
and
Village Molokai
.
• 25-10-2015: new clip of Darré by Moh! Kouyaté featuring Mariama
Moh!'s first album
« Loundo (Un jour) »
was released in early 2015. The album comes with refreshing songs, showing influences of Mandingo music, afro-beat, mixed with funky elements on the song
« Yéllé »
. There are featurings by Vincent Ségal and Piers Faccini on
« Gassata »
, and by singer
Mariama
(from Sierra Leone) on
« Darré »
. Of this song, the video clip has been released.
---

• 11-10-2015: Senegambian icon Moussa Ngom died
Gambian singer Moussa Ngom died 11 October 2015 in the Aristide Le Dantec Hospital in Dakar, Senegal. He was buried the next day in the religious town of Touba, also in Senegal. This shows that he was at home as well in Senegal as in his home country the Gambia. In music, he was famous as singer of
Guelewar de Banjul
, spent a few years (until 1988) in
Super Diamono
, after that he started a solo career. Moussa Ngom was respected for his honesty and simplicity, he was seen as a follower of Panafricanism, and he has always advocated a Senegambian
entente
.

• 07-07-2015: Untimely death of Bako Dagnon
Sometimes referred to as Mali's best guarded secret, songstress Bako Dagnon died in the early morning of 7 July at the Hospital Point G in Bamako. She has had a 40-years career in music, for 10 years she was part of the
Ensemble Instrumental National du Mali
along with several stars. Respected among fellow Malians, and also by prominent artists, she received more (international) fame in the 21th Century, after her recordings with
Mandekalou
, followed by two much acclaimed international solo albums.

• 29-07-2014: Drama on the beach, 33 dead after rap concert on Conakry beach.
A rap concert organised at the end of Ramadan season turned into a drama. After performances by
Banlieuz'art
and
Instinct Killers
, a massive crowd tried to find its way out of the Rogbane beach area while others still tried to get in. Among the dead there were many young people, mainly teenagers, some were apparently even as young as 12 years old. Guinean President Alpha Condé declared one week of national mourning and measures were announced to prevent this in future. The organisers, Malick Kébé and Ablaye M'Baye are held in custody. A similar event occurred at another beach in Guinea's capital Conakry, Lambanyi beach on the 1st of January 2014. Several people died when a small bridge collapsed under the weight of a crowd during a New Year's eve party.
• 19-04-2014: Record Store Day 2014
Exclusive limited edition releases at this year's Record Store Day, such as
Amadou Balake
's
« Bar Konon Moussou Bar »
. This years, about 250 exclusive releases mainly on vinyl are released at the occasion of the Record Store Day, which started in the US in 2007. In the following years, record stores in many countries started to participate in order to promote sales of records. Other African releases:
Bombino
:
« Agamgam 2004 »
;
Fela Ransome Kuti & His Koola
:
« Se E Tun De/Waka Waka »
(7'');
V/A
:
« Rough Guide to Mali »
(2nd Edition).

• 13-02-2014: The King of Congolese pop has died
King Kester Emeneya
, born 1956 as Jean Emeneya Mubiala Kwamambu, died in a Paris hospital in the early morning of 13 February 2014. Emeneya started his career with Papa Wemba's Viva la Musica, before establishing his own orchestra Victoria Eleison. He had many hits, innovative songs and memorable concerts and tours, in Congo as well as in the US, Japan, Switzerland and France (Zénith, Olympia). Emeneya was having health problems since he was shocked to hear about the death of Tabu Ley 30 November of last year.
---
>>>
News archives here...