African Music Compilations:
African Mosaïc (Syllart)

Ibrahima Sory Sylla set up his label in 1981 with artists such as Ismael Lo, Bopol, Gnonnas Pedro and Alpha Blondy, and steadily his catalogue grew to unknown dimensions. With periods of alternating high and low activity, Syllart Productions remained a stronghold of, mainly, but not exclusively, West African music. Apart from several hundreds of cassettes for the African market, Syllart was at the origin of (international) successes such as Salif Keita's Soro album, Kékélé, Africando and the Mandekalou projects.
Ibrahima Sylla, who suffered from diabetis, died in December 2013. His daughter Binetou Sylla took over and continued with a new company, Syllart Records.

The African Mosaïc series offers an overview of popular music of recent years, although concentrated on Syllart's back catalogue (West Africa, Congo and African salsa).
---

Various Artists:
African Mosaïc - Mali
Syllart 823400, 2005
CD

---
1. Salif Keita - Souareba 04:42
2. Abdoulaye Diabaté - Tabale 04:57
3. Kassemady - Fode 04:37
4. Oumou Sangaré - Diagneba 04:54
5. Askia Modibo - Bani Baka 05:42
6. Amy Koita - Diaraby 07:04
7. Fodé Kouyaté - Nterike 05:09
8. Nahawa Doumbia - Farafina Dambe 05:26
9. Kalory Sory - Sietigui 05:24
10. Sekou Kouyate - Keleya Kele 04:41
11. Coumba Sidibé - Baba 04:46
12. Boubacar Traoré - Santa Mariya 05:37
13. Dieneba Diakité - Dougou Dassiri 05:19
14. Kandia Kouyaté - Folilalou 07:04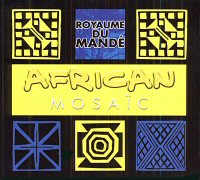 Various Artists:
African Mosaïc - Royaume du Mandé
Syllart 823401, 2005
CD

---
1. Kemo Conde - Naremagan
2. Sory Kandia - Kouyate Fouaba
3. Kerfala Kante - Lamine
4. Kandia Kouyate - Hommage
5. Sekouba Bambino - Banandjou
6. Mory Kante - Walignouma Lombaliya
7. Salif Keita - Sani Kegniba
8. Oumou Dioubate - Moye Bana
9. Amadou Sodia - Matayi
10. Kasse Mady - Laban Djoro

Various Artists:
African Mosaïc - Salsa
Syllart 823402, 2005
CD

---
1. Africando - Sabador
2. Mbilia Bel - Galaxie
3. Gnonnas Pedro - Gbeto enomon
4. Sekouba Bambino - Dalaka
5. Bantous de la Capitale - El manicero-mayeya
6. Aicha Kone - Maestro
7. Omar Pene & Super Diamono - L'an 2000
8. Oumou Dioubaté - Kalil
9. Rovias Adampoth - Getta
10. Kaabi - Chaponi
11. Tshala Mwana - Tshovo
12. Ibro Diabaté - Gunlo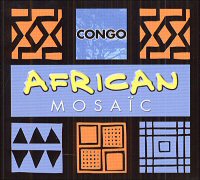 Various Artists:
African Mosaïc - Congo
Syllart 823403, 2005
CD

---
1. Zaiko Langa Langa - Dede sur mesure
2. Pepe Kalle - Mwana nmabowa
3. Koffi Olomide - Papa bonheur
4. Madilu System - Ya Jean
5. Sam Mangwana, Franco & le TPOK Jazz - Toujours Ok
6. Papa Wemba - Moyi
7. Mayaula - Ousmane Bagayoko
8. Nyboma - Anicet
9. Tshala Muana - Kalume
10. Felix Wazekwa - Bleu d'esperance
11. Mbilia Bel - Dileme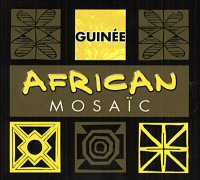 Various Artists:
African Mosaïc - Guinée
Syllart 823404, 2005
CD

---
1. Kerfala Kante - Semere Semere
2. Ibro Dibate - Somadala
3. Fode Kouyate - Sorombaya
4. Sekouba Fatako - Sabou
5. Sona Tata - Warasonoya
6. Pathe Moloko - Sanakouyagal
7. Mata Vieux - Yeyena
8. El Bangou - Souke
9. Oumou Dioubate - Wabara
10. Sekouba Bambino - Decourage
11. Sayon Camara - Dogobore
12. Fode Baro - Kounfeko
13. Hadja Maningbe - S'anfou
14. Tiranke Sidime - Keroko

Various Artists:
African Mosaïc - Sénégal
Syllart 823405, 2005
CD

---
1. Ismael Lo - Xalat
2. Baaba Maal - Wango
3. Omar Pene - Fari
4. Thione Seck - Papa
5. Youssou N'Dour - Immigres
6. Coumba Gawlo - Yo male
7. Africando - Yay boy
8. Lemzo Diamono - Simb
9. Xalam - Doley
10. Ouza - Xadim
11. Mansour Seck - Almamy bocoum
12. Alioune Kasse - Lingueye diaye